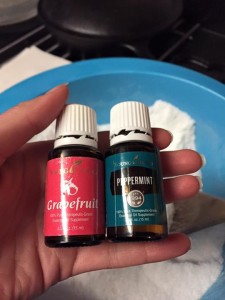 Do you LOVE taking a warm, soothing, and possibly fizzy baths?? Yes, you can have all those things without spending a TON! Here is what you will need: Epsom salts, citric acid, and baking soda…plus essential oils! I ONLY use therapeutic grade essential oils from Young Living. Not a member yet? I can help you with that, too! Your kids will think these are amazing and fun! For adults; they will enjoy the spa-like experience. Perfect for gift giving!
Both peppermint and grapefruit have an uplifting aroma that would turn any bad day upside down.
Peppermint & Grapefruit Bath Fizzies

Ingredients:
4 cups epsom salts
1/2 teaspoon red or pink food coloring (optional)
12 drops grapefruit essential oil
12 drops peppermint essential oil
2 cups baking soda
1 cup citric acid
Instructions:
CAUTION!! Citric acid may burn your hands if you have any cuts or irritations. I avoid this but just using a spoon for mixing and pour directly from container.
Combine Epsom salts, citric acid, and essential oils. After they are mixed together, then add the baking soda. Combine all ingredients well and make sure they stay very dry. You will not want to expose the mixture to any water or moisture. Package immediately in a glass airtight container (I prefer mason jars to give as gifts).
Depending on your personal preference and health goals; you can use 2 tablespoons for bath time fun or 1-2 cups for a therapeautic experience with the Epsom salts that are part of this recipe.
Edited to add: If you live in a dry climate, allow these to dry for a few hours before packing them up. If you live in a humid climate, you may want to try blow drying them on low for a few minutes to remove any excess moisture and then packaging them immediately.