Day 16: SLIQUE COLLECTION
Do you have weight management goals for the New Year? Whether they're big or small, Young Living has a full line of products to help you achieve weight management success: The Slique Collection. Slique products are designed to support in naturally curbing appetite, reducing mindless snacking, and managing feelings of satiation. Win, right?
So let's go down the line up so you can learn more about each collection and which one is best for you:
Slique Maintain (Item No. 4711) – Partners two of the most popular Slique products, Slique Tea and Slique Essence essential oil. This basic bundle is perfect for individuals interested in maintaining a healthy body weight through the benefits of essential oils. So if you're feeling like you're good with your weight management goals and want to keep at where you are, then this is the perfect collection.
Slique Assist (Item No. 4712) – Includes the products offered in Slique Maintain, along with an additional box of tea, four packages of Slique Gum, and two boxes of the new Slique Bars. It is a perfect bundle for those looking for a little assistance in slimming down. Let me tell you… Slique Gum is fantastic for helping to naturally curb appetite, plus it's great for overall oral health too.
Slique Advanced (Item No. 4713) – Combines each Slique product to maximize success. By adding Slique Slim Caps (which help to create a feeling of fullness) to the Slique Assist offering, individuals will gain the advanced support they need to achieve weight-management goals. So this is for moderate weight management goals.
Slique Complete (Item No. 4714) – The ultimate Young Living recommendation for those interested in healthy weight management. It combines all of the above Slique products, along with Balance Complete meal replacement shakes and NingXia Red® for optimal nutritional support. This is great for those who want to achieve bigger weight management goals and get on the road to a healthier…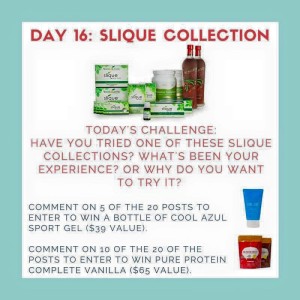 Day 17: SLIQUE TEA
Yesterday, you learned all about the Slique collection for weight management. Today, I wanted to introduce you to Slique Tea. It's great for ANYONE – not just those with weight management goals. Why? It's a great alternative to those sugary, caffeine drinks in the morning, plus it's rich in flavonoids, a dietary compound generally associated with helping maintain certain normal, healthy body functions. I personally like to alternate between NingXia Red, NingXia Nitro, NingXia Zyng and Slique Tea when I want to drink anything other than water. Slique Tea fulfills my need to have a warm drink in the morning that helps to make me feel energized. 
It's made with Jade oolong tea, ocotea leaf, Ecuadorian cacao powder, vanilla essential oil and frankincense powder, exclusively sourced from Young Living's distillery in Salalah, Oman. It does have naturally occuring caffeine from the oolong tea (the same hot teat you have in Chinese restaurants – and the same tea my Chinese mother used to tell me to drink daily because it "cleans you out"), vanilla and cacao (which help to make you feel satisfied), and ocotea to help curb cravings naturally.
Pretty awesome, right? Who doesn't want Slique Tea?
TODAY'S CHALLENGE:
Why do you want to try Slique Tea. BONUS points: Take a photo and post it here of you drinking Slique Tea.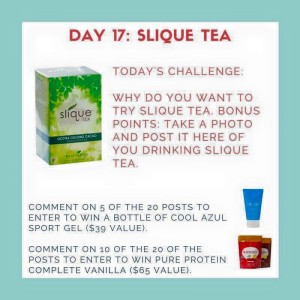 Day 18: SLIQUE BARS
Love at first bite. That's what I said when I first tried Slique Bars at Winter Harvest last year. They taste similar to Kind bars in the store, but have way more nutrients for our body. Slique Bars are made with a medley of exotic fruits, and nuts that both tastes delicious and provides a nutritious snack to help you feel fuller, longer. Really, it's actually been formulated to help you feel fuller and more satieted – thanks to potato skin extract and vanilla essential oil. Plus, there's a healthy dose of cacao nibs, coconut, wolfberries, and essential oils to provide nutrition. And I love that Slique Bars are sweetened with just a touch of honey. 
Need to satisfy your sweet tooth? Try Chocolate-Covered Slique Bars. YES! They are so delicious and my kids beg for them.
Slique Bars do contain baru nuts, almonds and coconut for those of you with food allergies. Here's the full ingredient list: Baru nuts, Almonds, Honey, Chicory root inulin, Dates, Coconut, Cocao nibs, Goldenberries, Bing cherries, Wolfberries, Quinoa crisps, Chia seeds, Potato skin extract, Sea salt, Vanilla essential oil, Sunflower lecithin, Orange oil, Cinnamon bark oil.
TODAY'S CHALLENGE:
Why do you want to try Slique Bars. BONUS points: Take a photo of you eating a Slique Bar.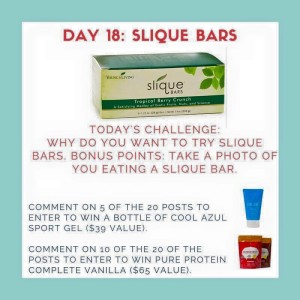 Day 19: MEAL REPLACEMENT
Do you ever feel you're so much on the go, you don't have time to eat? Or by the time you do eat, all your options are just junk food? Well, then you've got to check out Balance Complete and Power Meal. These meal replacements from Young Living are specifically formulated to help you feel full and provide vitamin- and mineral-rich nutrition when you're on the go.
Balance Complete is a super-food-based meal replacement that is both a powerful nutritive energizer and a cleanser. Offering the benefits of Ningxia wolfberry powder, brown rice bran, barley grass, extra virgin coconut oil, aloe vera, cinnamon powder, and our premium whey protein blend, Balance Complete is high in fiber, high in protein, and contains the good fats, enzymes, vitamins, and minerals needed for a nutritionally dynamic meal. Balance Complete also features Young Living's proprietary V-Fiber blend, which supplies an amazing 11 grams of fiber per serving, absorbs toxins, and satisfies the appetite while balancing the body's essential requirements. So it helps to energize, cleanse from the inside out and provides a healthy dose of fiber to help you feel fuller. 
Power Meal is a delicious, satisfying, rice-based (vegetarian) meal replacement, Power Meal is rich in calcium, antioxidants and amino acids, and delivers an impressive 20 grams of protein per serving plus a complete vitamin, mineral and enzyme profile. It's an option to Balance Complete for those who want a vegetarian meal replacement option. It also has a lot of fiber and 20 grams of protein, along with a third of the recommended daily values for vitamins and minerals.
Balance Complete does contain whey and barley grass – so something to consider for those with food allergies.
TODAY'S CHALLENGE:
Share your favorite shake or smoothie recipe with Balance Complete or Power Meal.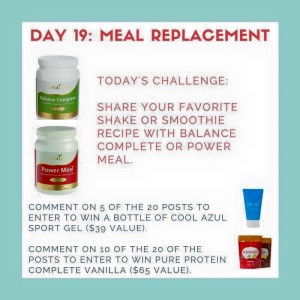 Wellness Challenge
Day 20: PURE PROTEIN COMPLETE
One of my favorite nutritional products from Young Living is Pure Protein Complete. It is AH-MAZING. It was just reformulated and released at YL Convention last year. What makes it so unique?
Two scoops of Pure Protein Complete contains
-25 grams of protein from rBGH-free whey, goat's milk, peas, egg whites, and organic hemp seed (this formula is soy free)
-A balance of amino acids, including D-aspartic acid, threonine, L-serine, glutamic acid, glycine, alanine, valine, methionine, isoleucine, leucine, tyrosine, phenylalanine, lysine, histidine, arginine, proline, hydroxyproline, cystine, tryptophan, and cysteine
-A proprietary enzyme blend
-Ancient peat and apple extract and a powerful B-vitamin blend, which supports ATP production, the energy currency of the body
The difference between Pure Protein Complete and Power Meal / Balance Complete is that the latter are meal replacements. Pure Protein Complete is a protein shake, not a meal replacement unless you combine the two.
Here's what I do to get the benefits of both meal replacement and protein:
I just made this delicious protein smoothie with Pure Protein Complete Chocolate Deluxe and Power Meal (meal replacement). I just did a scoop of each with a cup of milk and 4-5 ice cubes and 2 drops of Peppermint to support my digestion. So why these two? I'm stretching my Pure Protein Complete by using just one scoop. And they have a slightly different nutrition profile. Pure Protein Complete has amino acids, enzymes for healthy digestion and supports STP production for energy. Power Meal has protein and enzymes too plus vitamins and minerals such as vitamin A, vitamin C, magnesium and calcium. So together it's like one supercharged smoothie.
Pure Protein Complete comes in two flavors: Chocolate Deluxe (try it with a drop of Peppermint) and Vanilla Spice (try it with a couple of drops of Orange).
TODAY'S CHALLENGE:
Share your experience with Pure Protein Complete.