I know what you're thinking. You can buy essential oils anywhere, right? Yes, you can. But you may not be getting what you think.
You see, many of the essentials oils found in health food stores, specialty stores, boutiques and even online stores are NOT 100% essential oils. Or they may be grown in one state or country (and possibly exposed to pesticides and other toxins) and processed in another area. You never really know what you're going to get.
Why I Choose Young Living Essential Oils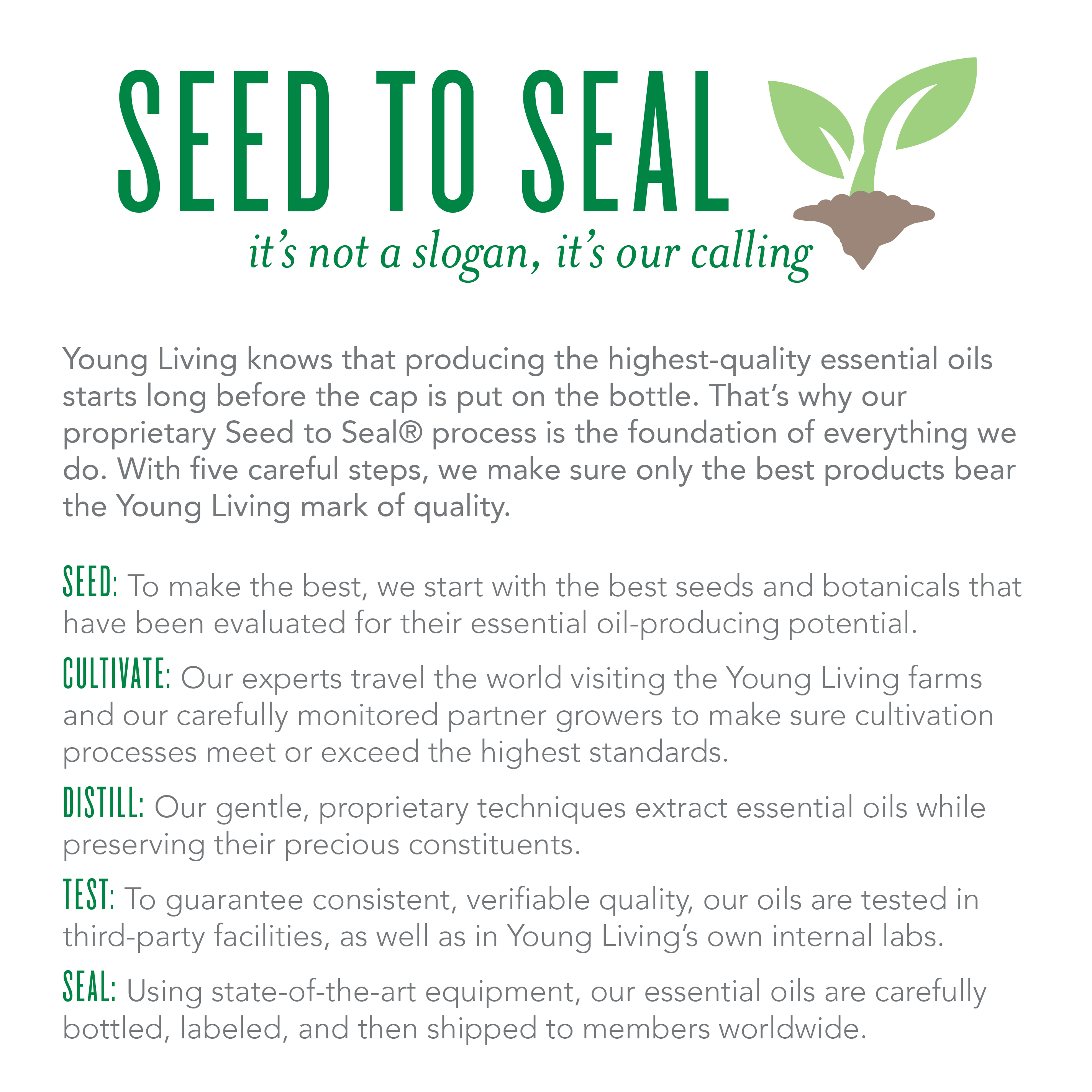 Young Living Essential Oils are 100% pure therapeutic-grade essential oils – which means they can be used for therapeutic use, not just for smell. I use these essential oils as part of our holistic medicine kit. For instance, I use peppermint to bring down fevers and treat bug bites, and lavender for minor cuts. I also make homemade beauty and natural household cleaners.
Young Living Essential Oils sets the standard for purity and authenticity. They carefully monitor every step of the production of their oils from Seed to Seal – from the time the first seed is planted to the time the bottle is sealed.
How to Buy Young Living Essential Oils
Becoming a wholesale member is the best way to take advantage of reduced pricing and get started on your oily journey today. To get started visit http://bit.ly/HealthyInAHurryEOs
Benefits of a Wholesale Membership
24% off retail prices
No required selling
No required monthly minimum purchase
Comes with a LIFETIME membership
Qualify for the Premium Starter Kit – the best deal with Young Living. Get over $300 worth of essential oils, diffuser, and other goodies for just $160. Retail customers do not qualify for this deal
Joining a team of people that will help you on your oily journey
When you sign up to become a Wholesale Member you can choose an enrollment kit to get started with Young Living Essentials. I recommend the Premium Starter Kit.
The Young Living Premium Starter Kit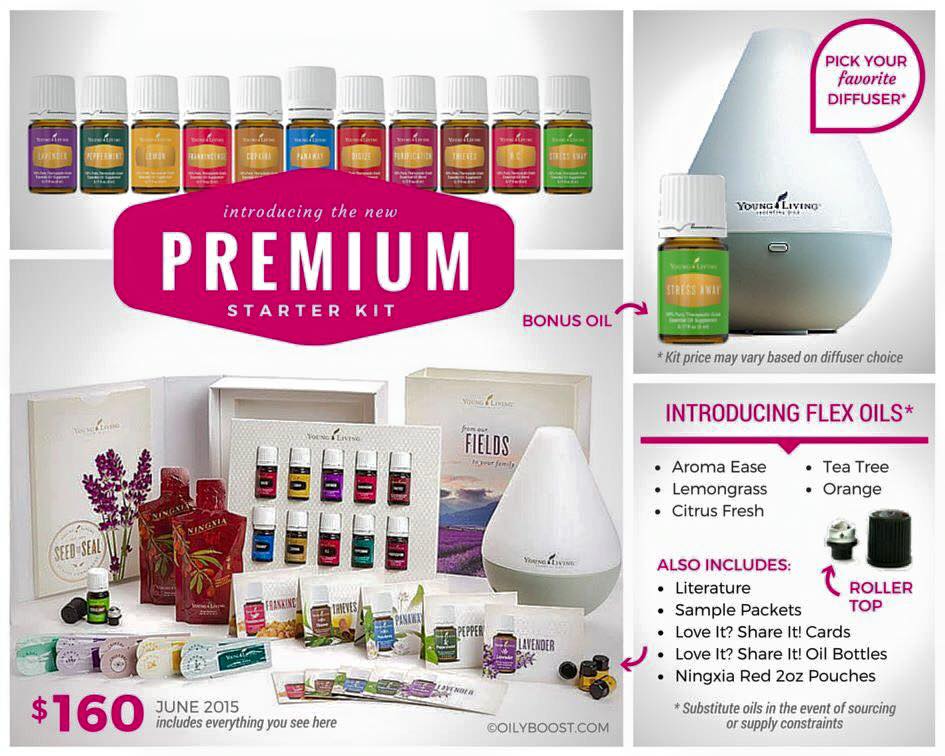 Here's what's included in the Premium Starter Kit ($300 retail value but wholesale members can get it for JUST $160):
10 amazing oils – 10 of the most popular essential oils from Young Living, including (all 5 ml bottles) Lavender, Peppermint, Lemon, Frankincense, PanAway, DiGize, Thieves, Purification, Copiaba, R.C., Frankincense, will be sent in this kit
A home diffuser (retail value $96 – this is a staple in our home)
Essential oils user's guide
Stress Away 5-ml bottle (this is my favorite – I use it as my perfume)
AromaGlide Roller Filament (to turn any oil into a roll on)
Two sample packets each of Lavender, Peppermint, Peace & Calming, Lemon, and Thieves (for you to share with your friends!)
10 sample bottles to share your oils with friends AND cards to describe the uses for each oil
All Starter Kits
Young Living offers 7 starter kits with wholesale membership. The premium starter kit is the best deal (you'll get $300 worth of oils, diffuser and other goodies for only $160), but here's more information on other options.
And more information on other starter kits from Young Living
Premium Starter Kit with Aroma diffuser – $160
Same as Premium Starter Kit with the upgraded Aroma diffuser instead of the Home diffuser
Military Starter Kit – $150
Same as the Premium Starter Kit with AromaEase in place of Frankincense
Thieves Starter Kit – $150
Everything in the Basic Kit, plus: Thieves 15ml essential oil blends, Thieves AromaBright Toothpaste, Thieves Mouthwash, 2 Thieves Cleaners, 2 Foaming Hand Soaps, 2 Thieves Sprays and 2 Thieves Purifiers.
NingXia Red Stater Kit – $150
Everything in the Basic Kit, plus: NingXia Red 2 pack, (30) NingXia Red Singles (2 fl. oz. ea.) and NingXia Nitro.
2. Select "Sign up as: Young Living Wholesale Member".
3. The "Enroller ID" and "Sponsor ID" boxes should already be filled in for you. But if not, enter 1703168 for sponsor and 1703168  for enroller. 
4. Fill out your name, billing address, shipping address, and contact info. The reason you are asked to list your social security number is for tax purposes. If you make over $600/year selling Young Living products, you will receive a 1099 form in the mail, as is required by law. Young Living will never share this info with anyone.
5. Create your password and pin which you will use to log in to your account and order your oils.
7. Set up your *optional* Essential Rewards Program (ER). You are NOT required to enroll in this program. This is a rewards program to earn money to pay for your oils. At this point, you can skip this step by selecting: 'No, thank you. I plan on enrolling in the Essential Rewards Program later'.
Oily Resources
Join the Healthy in a Hurry Essential Oils Facebook page – learn how to use essential oils, get DIY cleaning and beauty recipes with essential oils, find out about natural remedies and much more in this 1,000+ member group.
Got questions?
Please let me know if you have any questions. Send me an email at healthyinahurryeo at gmail dot com.Disclosure: I'm a Young Living Independent Consultant and can help you choose and buy your essential oils.