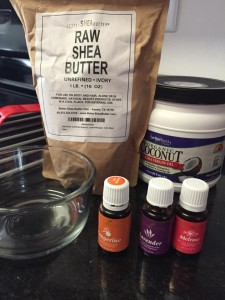 This is my favorite homemade body butter recipe. It's so nourishing and easy to make.
Ingredients
1 cup coconut oil

1/2 cup shea butter

1 tablespoon almond oil

20 drops Lavender (where to buy)

15 drops Melrose

8 drops Tangerine
Directions
Melt coconut oil and shea butter over low heat in a saucepan.
Remove from heat when melted.
Add almond oil and essential oils.
Put mixture in freezer for 30 minutes.
Remove from freezer and use a stand mixer to whip body butter.
Store body butter in Mason jar.