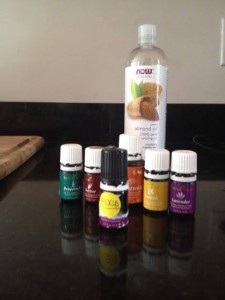 I decided to make a focus blend for myself with some of my favorite oils. I researched them using the Essential Oils Pocket Reference Guide, and what I have previously used to help with focus and concentration.
Vetiver is psychologically grounding, calming, and stabilizing. It is antiseptic, antispasmodic, relaxant, and circulatory stimulant.
Cedarwood stimulates the emotional center of the brain and the pineal gland to release melatonin. It is also recognized for its calming properties (EODR). 
Lavender is calming, relaxing, balancing, and has been documented to improve mental acuity (EODR). It also smells great when blended with the earthy tones of Vetiver and Cedarwood. 

Lemon promotes clarity of thought and purpose, improves memory, and can be used for anxiety (EODR). Lemon is a very happy oil in my opinion and brightens up my day.
Peppermint purifies and stimulates the conscious mind. Research indicates that inhaling peppermint during mental tasks, may help improve attention, focus, and performance (EODR).
Ingredients
Empty 5 ml bottle


15 drops Vetvier

15 drops Cedarwood

15 drops Lavender

10 drops Peppermint


10 drops Lemon
Directions
Fill the rest of the way with sweet almond oil and top with a roller-ball fitment


I apply on the back of my neck to increase my ability to focus throughout the day.